Move On works in Scotland to unlock the potential of vulnerable young people and those affected by homelessness in order to improve their lives.
From our bases in Edinburgh and Glasgow, Move On works with vulnerable young people and those affected by homelessness.
We offer a range of services providing advice, training, guidance and support enabling vulnerable young people and those affected by homelessness to unlock their potential and achieve a range of positive outcomes. These positive outcomes include; securing or progressing towards a job, accessing and sustaining a home, building confidence, growing support networks and increasing life skills.
Intandem – mentoring 8-14 year olds looked after at home
intandem, Scotland's mentoring programme for young people, brings together vulnerable young people with a mentor to build a consistent and trusting relationship, and improve their chances in life. The Scottish Government has appointed Inspiring Scotland to lead the development of the intandem programme.  Move On is delighted to be one of 13 projects throughout Scotland chosen to deliver the first phase of this programme, supporting 8-14 year olds who are looked after at home. Click here for more information about intandem.
---
Money Advice Service What Works Fund
Move On's peer education financial capability programme is one of 26 projects throughout the UK to be funded by the Money Advice Service's new What Works Fund.
The Money Advice Service are an independent service, set up by government to help people make the most of their money, they give free, unbiased money advice to everyone across the UK – online, over the phone and face to face.
---
Facebook latest
Move On Scotland
Friday, March 24th, 2017 at 1:21pm
Move On Scotland
Friday, March 24th, 2017 at 12:55pm
Move On Scotland
Friday, March 24th, 2017 at 11:12am
Twitter latest
Friday, March 24th, 2017 at 8:16am
Head to the Big Vote Party at Festival Theatre 1.30 today @edtheatre @Edinburgh_CC #chooseyouthwork https://t.co/lih8f9gBu0 https://t.co/P9svdPLwzc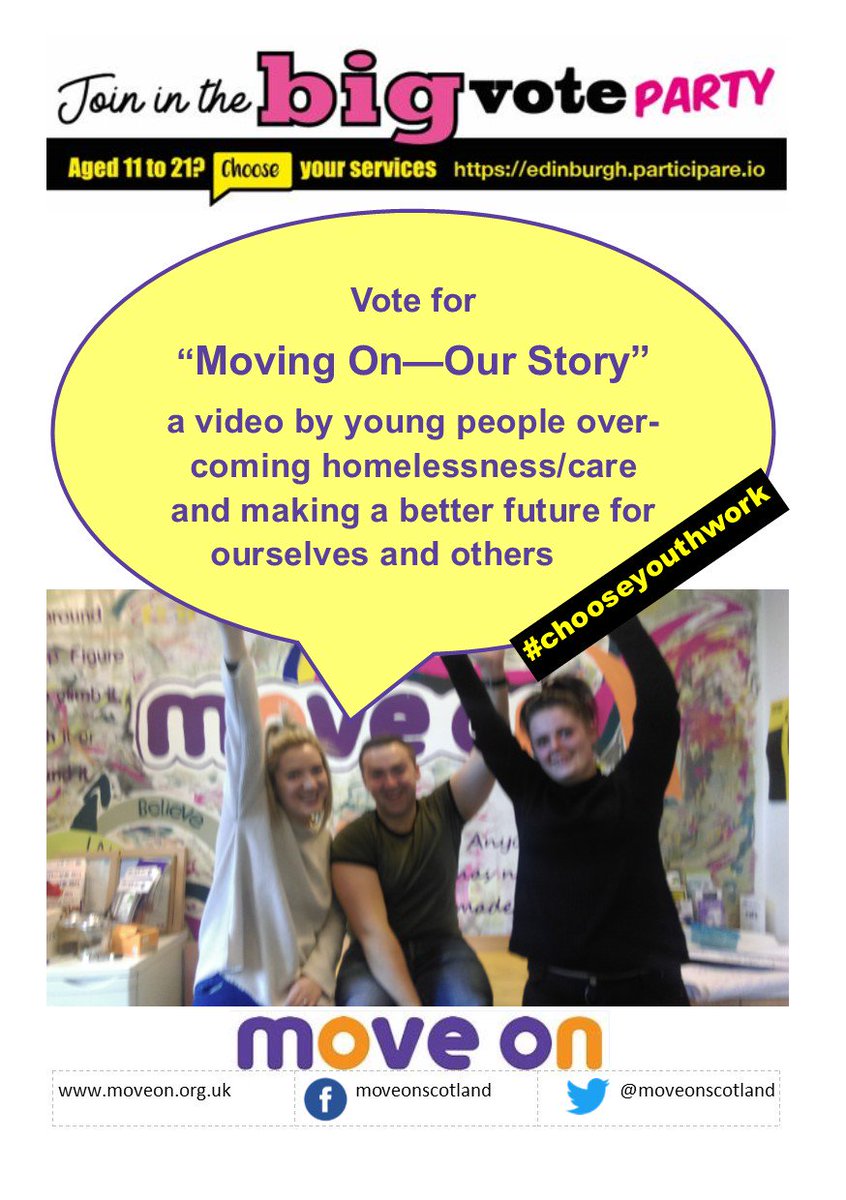 Monday, March 20th, 2017 at 12:58pm
Live in Edinburgh and aged 11-21? Vote for 3 of 16 projects and make one of your votes Move On! https://t.co/tgYo3zkcaj #chooseyouthwork https://t.co/wlqMPBAcPm